Raleigh NC Residential Stone Installation FREE Quote ➨ Raleigh NC stone Masons Veneers, Foundations Chimneys Veneer Stone Raleigh NC Masonry company
Raleigh (NC)»» (Stone Mason) IN Raleigh (NC)» Stone Contractor Mail Box Raleigh (NC)»» Stone Veneers Walls Foundation Masonry Company Raleigh (NC)»» Stone Repairs Cost. Raleigh (NC)» stone work consists of Veneers, Foundations, Raleigh (NC)»» Stone Chimneys, Retaining Walls, Building Stone, Raleigh (NC)»» Veneer Stone, and much more.
STONE MASON MASONRY REPAIR
There's nothing quite like the look of natural stone that has been quarried and cut to fit beautifully into your home. such as selected river rock, NC fieldstone or flagstone. natural stone is perfect for a number of projects around the house - from stepping stones and outdoor columns to fireplaces and interior walls Building with rock and stone is what we are all about. Our stone work consists of Veneers, Foundations, Chimneys, Retaining Walls, Building Stone, Veneer Stone, and much more, for a custom design that will fit your need and lifestyle. We are experts in the field of Landscaping and Rock work.
If you have a vision of what you want, tell us about it. Do you have a masonry idea?
Stone Wall Building
We know that stone wall building and Raleigh NC stone repair work can involve some dust and noise. Be assured that everyone who works with Designer Properties respects your people, pets and property. They are honest, reliable, hard-working craftsman. We will take great care to minimize the dust that is involved in building your stone retaining wall and we will always leave a clean place after the completed work.
Our custom stone masonry services include: North Carolina Stone wall construction Block wall construction Stone waterfall construction Stone wall repair Stone veneer installation Building stone planner Custom stone masonry Building stone retaining wall Stone wall crack repair Stone wall repair Masonry wall repair Retaining wall repair
Stone Laying Techniques
Classic- Classic stonework has visible mortar joints between the rocks. This technique is achieved by parging mortar to the back of the rock and the wall it will be attached to, along with a thin layer between each rock. After setting and drying, the joints between the rocks are struck to an even amount of visible mortar. Dry Stack- The dry stack technique is both impressive in its visual appeal and composure. The central idea of the technique is setting rocks with no visible mortar joints. This is accomplished through meticulous picking and choosing of rocks that fit together perfectly. Mosaic- The basic technique involves using rocks of different shape and color to build a mosaic picture or symbol into the structure being created. It could range anywhere from a mountain range, to different types of trees, to a meaningful symbol built into the structure of your project. Mosaic stonework could be built in a classic or dry stack look. Depending on the type of project, the physical structure could also be build to reflect the picture being set into the creation. Mosaic pictures can add meaning and uniqueness of even the most basic structure.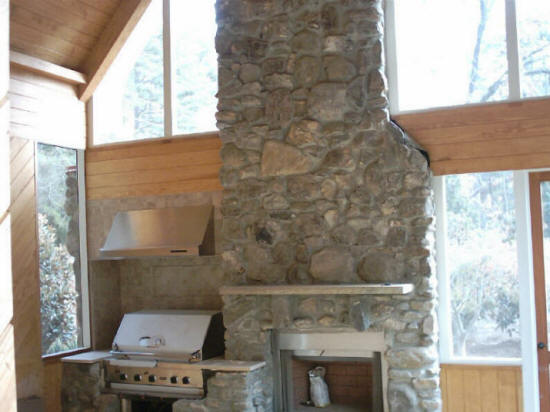 Gallery MASONRY1 MASONRY2 MASONRY3 MASONRY4 MASONRY5 MASONRY6